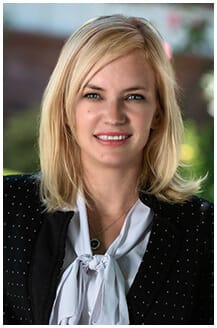 Christina L. Godbey
Attorney
Location: Riverside, California
Phone: 951-686-8190 | 800-594-4160
Fax: 951-686-8195
Christina L. Godbey is a licensed California attorney, admitted to practice before all California state courts. Ms. Godbey has extensive experience in all areas of family law. Ms. Godbey is also a Court Approved Minor's Counsel and Special Master in the County of Riverside.
Ms. Godbey obtained her Juris Doctor (JD) from Western Michigan University. Ms. Godbey received a concentration in Litigation. Throughout law school and before becoming an attorney, Ms. Godbey was able to represent parties under the student practice rule in Michigan and California. Specifically, Ms. Godbey worked in a family law clinic in Grand Rapids, Michigan and the Public Defender's Office in San Francisco, California.
While in law school, Ms. Godbey was on the Dean's List and made Honor. In addition, Ms. Godbey was accepted early in the Moot Court class. Ms. Godbey also served on the Moot Court Board for two (2) years, and was given an award for her service on the Moot Court Board.
Ms. Godbey's love for families started when she started volunteering at various places when she was in sixth (6th) grade. Ms. Godbey has volunteered for many programs including, but not limited to: Florence Critton, Meals on Wheels, California Prison Focus, Adaptive Recreation, Women's Transitional Living Center, and Boys & Girls Club.
Ms. Godbey received her Bachelors of Arts in Sociology, and minored in Psychology. With her undergraduate background, Ms. Godbey is able to approach each client differently and meet each individual client's respective needs.
Currently, Ms. Godbey is a member of the Riverside Legislative committee, and she reviews and comments on proposed legislation for the State of California. Ms. Godbey also plans on becoming a Certified Family Law Specialist in 2019.
Areas of Practice
Bar Admissions
Education
Western Michigan University, Cooley Law School, Lansing, Michigan
Juris Doctor
Honors: Dean's List
Honors: Honor
Honors: 3rd place in an Intra-school Moot Court competition
Honors: Award for her service on the Moot Court Board
Major: Litigation
Past Employment Positions
San Francisco Public Defender's Office
Pro Bono Activities
Florence Critton
Meals on Wheels
California Prison Focus
Adaptive Recreation
Women's Transitional Living Center
Boys & Girls Club